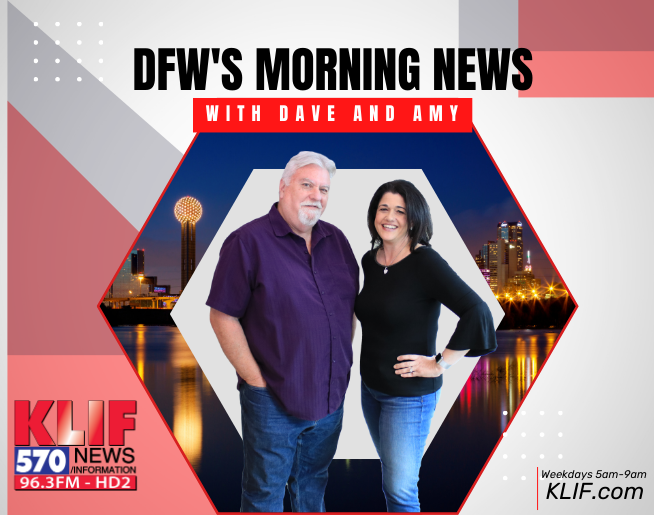 570 KLIF News & Information in the Morning is the perfect way to get your day going. Named the Best News Program in Texas by the Associated Press Broadcasters Association, Amy Chodroff and Dave Williams bring you the full rundown of all that's been happening overnight.
KLIF Traffic on the 5's with Bill Jackson, weather from WBAP Meteorologist Brad Barton, the latest news from the 24/7 news team, and Producer Robyn Geske round out the complete information package.
Join Dave Williams and Amy Chodroff each weekday morning, 5:00 – 8:00, and start your day informed.
Amy Chodroff
Amy Chodroff joined KLIF as co-anchor of "KLIF News and Information In the Morning", after spending more than 8 years as part of the WBAP Morning News Team.  She is an award winning News Anchor and Reporter who has been named Best News Anchor in Texas by the Associated Press multiple times over the past 8 years.
Amy is originally from Boston and got bitten by the broadcasting bug in high school.  She volunteered at her local Cable Access Station and was doing "Man On The Street" interviews in front of the post office on a weekly basis.
Amy graduated from Syracuse University with a degree in Broadcast Journalism.  There, she met her husband of 18 years, Jack Fink, a reporter at CBS 11 TV.  They have two beautiful daughters, who keep Amy very busy with all their activities.
Amy has worked for radio stations in Upstate New York, Rhode Island, Florida and Los Angeles.  She also dabbled in television, taking home awards for her work as a writer and producer for KCAL-TV in Los Angeles.
She loves living in the Metroplex and is proud to call North Texas home.
Dave Williams
Dave Williams was born and raised in Sacramento, California. His career has taken him from there to Los Angeles, Chicago and now, Dallas, where the Associated Press named him and Amy Chodroff the Best Major Market Radio News Team in all of Texas
Dave and his wife, the woman he calls "The lovely-and-feisty CarolAnn Williams", have two sons and two grandsons in California. At home in Frisco they live with their two beloved Yorkies and a righteously indifferent cat named Cora.
RECENT NEWS