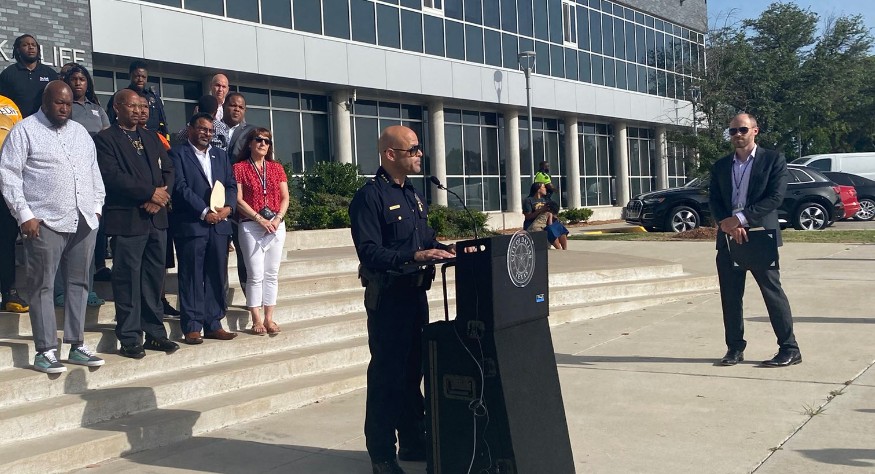 DALLAS (WBAP/KLIF) – Dallas Mayor Eric Johnson, Police Chief Eddie Garcia, and other city and Dallas ISD officials on Thursday announced a new "Summer of Safety" campaign to encourage participation in the city's free and low-cost activities for youth.
The mayor and police chief launched the effort outside of South Oak Cliff High School. Joining them were Public Safety Committee Chairman Adam McGough, Dallas ISD Trustee Maxie Johnson, Park Board President Arun Agarwal, Director of the Dallas Public Library Jo Giudice, South Oak Cliff High School Principal Willie Johnson, and others who are working to reduce violence in the South Oak Cliff community.
Mayor Johnson highlighted his own initiatives and partnerships, such as SMART Summer with Mayor Johnson, a summer reading and education program for Dallas children; The Park and Recreation Department's Teen All-Access Pass, which gives Dallas residents ages 13-17 free admission to a collection of museums, water parks, nature centers, and other venues during the summer; and Dallas Works, the mayor's summer jobs program for Dallas youth.
Agarwal discussed the youth camps, recreation center activities, and aquatics centers that are available to young people.
Chief Garcia said the police department offers self-defense classes, midnight basketball, boxing programs, disc golf, movie nights, kickball events, and other programs.
Giudice said the city's library system wants volunteers and offers activities, such as music lessons, during the summer.
"This is more than an awareness effort. It's a call to action," Mayor Johnson said Thursday morning. "If you don't have kids, you can help by volunteering this summer, by joining or starting a crime watch group, and simply by spreading the word. And if you do have kids, talk to them. Check on them. Make it your business to know where they are and what they're up to. As critical as our law enforcement efforts are, we must work together to make our city safer. Because we must have each other's backs."
The mayor and other officials said they would continue to push out information during the summer on available programming and activities, and they encouraged others to do so as well.
Copyright 2022. WBAP/KLIF News. All Rights Reserved.