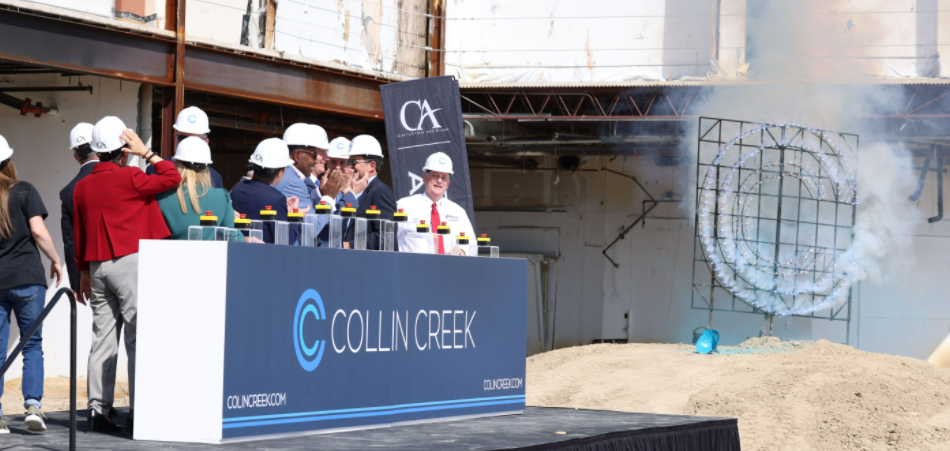 PLANO (WBAP/KLIF)- Top leaders from Centurion American Development Group, along with Plano Mayor John Muns and other municipal leaders, broke ground today on the commercial portion of Plano's Collin Creek development, a $1 billion mixed-use project to transform the Collin Creek Mall.
The commercial portion of Collin Creek will include approximately 400,000 square feet of retail space inside the shopping center core and exterior perimeter retail, a robust collection of signature restaurant concepts and entertainment destinations. A first class independent living operation and selected additional retail space will also be included in the development. A later phase of the development is expected to include office and possible hotel alongside the Central Expressway corridor.
"Collin Creek will provide one of the premier mixed use redevelopments in North Texas, right at the Southern gateway to our city," said Plano Mayor John Muns. "The City's agreement with Centurion American is historic. While many former regional malls across America sit idle and vacant with little or no hope of redevelopment, the City of Plano worked with the developer to fully fund the transformation of the Collin Creek Mall. Few cities have accomplished this
feat."
In addition to the commercial portion of the development, there will be 500 two and three story
townhomes in the development, built by Ashton Woods Homes, Gehan Homes and Mattamy Homes.
"We're thrilled to have broken ground on this exciting live, work and play development," said Centurion American President and CEO Mehrdad Moayedi. "We're looking forward to bringing to life an unmatched experience for residents and visitors alike in this prime location of Plano."