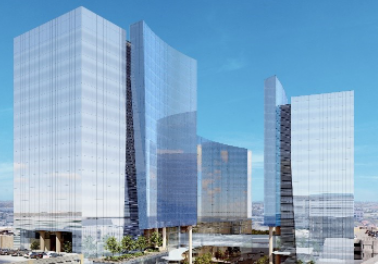 RICHARDSON (WBAP/KLIF) – Three additional officer towers are being developed at at CityLine in Richardson.
According to developer KDC, the new buildings will add nearly 1.4 million square feet of space to the 204-acre development, which is home to State Farm's regional hub and Raytheon's state-of-the-art office complex. Five CityLine is an 18-story tower with 513,000 square feet, while Six CityLine is a 13-story tower with 356,000 square feet. The third tower, Seven CityLine, offers 15 stories at 507,000 square feet.
CityLine contains 2.6 million square feet of office space and more than 200,000 square feet of restaurant, retail, and entertainment space including specialty grocer Whole Foods and CVS. More than 3,000 urban residential units and their more than 4,000 residents are within walking distance, as well as 148 hotel rooms and over 20 acres of dedicated land for public green space.
"CityLine is one of the Metroplex's most successful urban, transit-oriented developments," said Walt Mountford, executive vice president of development for KDC. "These three new towers build upon the project's success and will provide an exceptional opportunity for tenants seeking office space in an already established and thriving walkable community."
Designed by Dallas-based architecture firm Corgan and Associates, Five, Six, and Seven CityLine can be linked via an interconnecting sky bridge.
Copyright 2021. WBAP/KLIF News. All Rights Reserved.