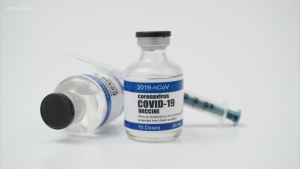 NEW BRUNSWICK, NJ  (WBAP/KLIF News) – Johnson and Johnson is the latest drug maker to tout its COVID-19 vaccine booster shot.
The company announced Tuesday that those who receive a second dose of its one-shot vaccine will be better protected from the virus.
In a Phase 3 trial, J & J said studies show the second shot given 56 days after the first dose provided 94 % protection against COVID-19 in the United States.
The study also showed the booster provides full protection against severe cases of the virus at least 14 days after the last dose.
J&J said "antibody levels rose to four to six times higher" after the second dose than what was observed after the first. The study also showed there was a 12-fold increase in antibodies when a J & J booster shot was given after six months.
The study has not been peer reviewed but Johnson and Johnson is in talks with regulators, including the U.S. Food and Drug Administration, regarding the use of its booster shot.
"It is critical to prioritize protecting as many people as possible against hospitalization and death given the continued spread of COVID-19. A single-shot COVID-19 vaccine that is easy to use, distribute and administer, and that provides strong and long-lasting protection is crucial to vaccinating the global population," said Paul Stoffels, M.D., Vice Chairman of the Executive Committee and Chief Scientific Officer at Johnson & Johnson." At the same time, we now have generated evidence that a booster shot further increases protection against COVID-19 and is expected to extend the duration of protection significantly."
Last week, an FDA panel recommended a third dose of Pfizer BioNTech's COVID vaccine for people 65 and older and for high-risk individuals.
Copyright 2021. WBAP/KLIF News. All Rights Reserved.