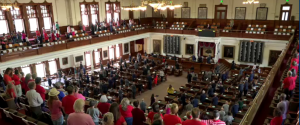 AUSTIN (WBAP/KLIF) – Another special session began on Monday inside the State Capitol in Austin.
It's the third special in the 87th Texas legislative session.
A quorum was held in the House and Senate as lawmakers prepare to tackle agenda items laid out by Governor Abbott. Those items include redistricting.
"Every 10 years we get a chance to redraw voting maps to bring our current electoral landscape into alignment with a rapidly changing state," said MOVE Texas Action Fund Executive Director, Claudia Yoli Ferla. "Over the past decade, Texas has seen incredible growth and 95% of it comes from communities of color. Let us be clear: it is imperative that the new maps reflect this reality and respect our communities' right to have a voice in our political process."
Other agenda items for the special session include discussions on vaccine mandates, Federal COVID relief money, and a bill surrounding transgender athletes.
Listen to Clayton Neville's story below:
Copyright 2021. WBAP/KLIF News. All Rights Reserved.