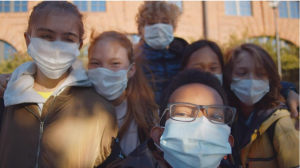 PARIS, Texas  (WBAP/KLIF News) – Texas Attorney General Ken Paxton continues to take school districts to court amid the battle between state and local leaders over mask mandates.
A Lamar County district court issued a temporary restraining order against Paris ISD in regards to its mask policy, which district officials incorporated into the school's dress code just before the 2021-2021 calendar year started.
At the time the mandate was implemented, the defended its decision in a statement that read in part:
"The Board believes the dress code can be used to mitigate communicable health issues, and therefore has amended the PISD dress code to protect our students and employees. The Texas Governor does not have the authority to usurp the Board of Trustees' exclusive power and duty to govern and oversee the management of the public school district," said the statement.
The court sided with Paxton and stated that the district "lacks authority to issue or enforce a facemask mandate in light of Governor Greg Abbott's executive order GA-38," said the court.
In a statement, Paxton said he will not stop his quest to make sure Abbott's ban is upheld.
"The law is clear, and this superintendent knows this, yet he has no issue continuing to waste precious state resources on impossible lawsuits instead of providing for his students," he said. "This temporary restraining order is just the first step in restoring order to our great state and ending this disruption from rogue local officials."
Paris ISD is not the first North Texas school district to be hit with a lawsuit from Paxton's office.
Last week, Richardson ISD was among six school districts in Texas, who were named in one of Paxton's lawsuit.
Paxton's lists of lawsuit against school districts continues to grow.
Fort Worth ISD also had its mask mandate struck down this week, the legal argument against it was launched by parents.
The requirement went into effect Monday morning and before classes ended, a judge sided with parents who sued the district and issued a temporary injunction preventing the mandate until both sides go to trial in January.
Copyright 2021. WBAP/KLIF News. All Rights Reserved.