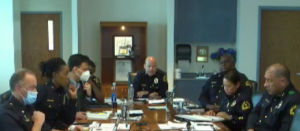 DALLAS (WBAP/KLIF) – Recent statistics show the Dallas Police Department is chipping away at violent crime.
When Dallas Police Chief Eddie Garcia took over as Chief earlier this year he laid out a crime reduction plan focused on more Police visibility and other factors.
The Dallas City Council Public Safety Committee learned this week that violent crime is down by about 6% compared to the same time last year. The Chief praised the work of his Officers.
"There's going to be good days and there's going to be challenging days," said Chief Garcia. "But we have to celebrate the positive times because we know there will be challenging times."
Robberies in Dallas also are down, but the Chief said there's much more progress to be made.
"I'm very proud of the work the men and women of the Dallas Police Department have done, and how they are truly making a difference in this city."
When Garcia took the Chief of Police position he said reducing violent crime was a top priority.
Listen to Clayton Neville's story below:
Copyright 2021. WBAP/KLIF News. All Rights Reserved.