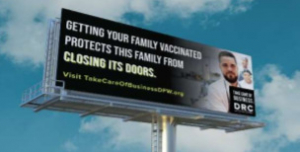 DALLAS (WBAP/KLIF) – The Dallas Regional Chamber announced on Tuesday that it reached its goal for its "Take Care of Business" public service campaign that offered incentives for North Texans who are fully vaccinated for COVID-19.
According to the DRC, more than 600,000 new COVID-19 vaccinations have been administered in the four-county Dallas Region since early June. The DRC has been tracking vaccination numbers in Dallas, Tarrant, Collin, and Denton Counties since June 9, the date of the campaign launch. As of Tuesday, September 14, more than 660,000 individuals 16 and older in the four-county region have received at least one shot of the vaccine in the three-month time period.
"This is very exciting," said Dale Petroskey, President and CEO of the Dallas Regional Chamber. "The credit does not go just to the DRC, but to every organization and individual in our community working to end the pandemic through the protection provided by vaccines. "It is our hope that the number of people getting the vaccine will continue to grow. That's the surest way to stop the surge in cases overwhelming our hospitals."
Through pop-up vaccine clinics and a multimedia messaging campaign that included social media, billboards, a TV and radio Public Service Announcement, and website serving as an information hub with facts and resources on vaccinations, the campaign made a special effort to reach communities of color, which the Chamber noted, have been disproportionately impacted by the pandemic.
Copyright 2021. WBAP/KLIF News. All Rights Reserved.