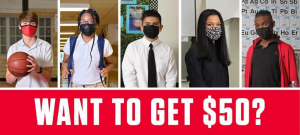 DALLAS  (WBAP/KLIF News) – In an effort to help curb the spread of COVID-19, Dallas ISD is offering cash incentives to students and teachers to get vaccinated against COVID-19.
The district will give students ages 12 and older a $50 gift card that can be used as cash.
To be eligible, parents or students who are at least 18 must fill out the proof of vaccination form and submit a copy of the student's COVID vaccination card, IMMTrac2 print out or written confirmation from a doctor by November 15.
Once proof of vaccination has been submitted and the forms have been processed, the district will alert parents and students about when and where the gift cards can be picked up.
Click here to submit the form.
Before incentives for students were announced, the district had offered teachers $500 to get vaccinated. Staffers must submit their information by November 15th as well.
The district said the money will be included in the teacher's paycheck within 45 days.
The incentives comes amid a surge in COVID-19 metrics in Dallas County and an increase in numbers within the district.
According to the district's COVID-19 dashboard, there are 1,546 confirmed COVID-19 cases among students and 650 among staff.
In addition to the incentives, the district implemented a mask mandate for students and staffs in defiance of Governor Greg Abbott's ban against them.
District officials said they put these measures in place to help curb the spread of COVID-19 and to keep the DISD community safe.
Copyright 2021. WBAP/KLIF News. All Rights Reserved.