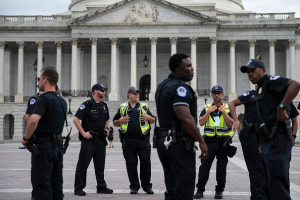 Washington (WBAP/KLIF) – US Capitol Police early Monday arrested a California man who they say had multiple knives in his truck which was parked near the DNC headquarters.
They say that the weapons, some of which are banned in the District of Columbia had a swastika and other White supremacist symbols painted on it.
Patrol officers noticed the Dodge Dakota pickup truck around midnight on Sunday; the truck didn't have a license plate but instead a picture of an American flag, according to authorities.
The officers pulled over the truck and noticed a bayonet and machete, both illegal in DC.
In a written statement, Capitol Police Chief Tom Manger said, "This is good police work plain and simple.  "We applaud the officers' keen observation and the teamwork that resulted in this arrest."
According to the Capitol Police, Craighead claimed he was "on patrol" and spoke about white supremacy.
USCP Officers Arrest California Man with Bayonet & Machete: https://t.co/0mhsoOC8vX pic.twitter.com/9SR1NXsJV6

— U.S. Capitol Police (@CapitolPolice) September 13, 2021
The driver, identified as 44-year-old Donald Craighead of Oceanside, California, was arrested.
More on the story from Fox Radio News' Jared Halpern:
Meantime, the nation's Capitol is preparing for an upcoming far-right rally this weekend and authorities are taking measures to anticipate potential violence beforehand.  The Associated Press reports that allies of former President Donald Trump are calling those charged in the Capitol riot "political prisoners." 
Participants are expected to demand that the Justice Department officials to drop charges against the more than 600 people charged in connection with January's violent Capitol riot.
Capitol Police issued a statement detailing measures being taken to ensure safety, to include, "temporarily putting up a fence around the Capitol Building. When the inner-perimeter fence was taken down in July, USCP leaders noted that from time to time, they may exercise the ability to enhance security around the Capitol Complex."
USCP Prepared for September 18 Demonstration: https://t.co/OT8FHewII9 pic.twitter.com/iRMz7WlMiO

— U.S. Capitol Police (@CapitolPolice) September 13, 2021
(Copyright 2021 WBAP/KLIF. All rights reserved. This report contains material from Fox Radio News)