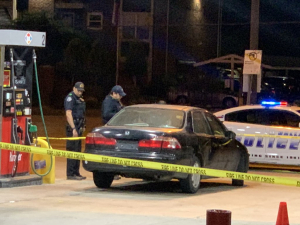 DALLAS (WBAP/KLIF)- Police say an off duty Seagoville officer is ok after a man fired several rounds at a Gas Station by Kroger on Frankford Road in Dallas shortly after 9pm.
The officer was working security and when he saw a disturbance between a man and a woman at the gas pumps he went over  an identified himself as an officer.
Police say then the man fired several rounds at the officer but he was able to take cover and avoid getting hit. Police say he didn't fire any shots.
The suspect ran away but was caught a few blocks down.
No one was injured in the shooting, and a 17-year-old suspect was arrested.
Police did not yet know the relationship between the man and the woman. The woman was being questioned by detectives.