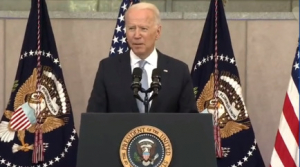 WASHINGTON – President Joe Biden has announced strict new testing, masking and distancing requirements for federal employees who aren't vaccinated.
He's hoping to boost sluggish vaccine rates among the millions of people who draw federal paychecks and set an example for private employers around the country.
The move by the federal government – the nation's largest employer – comes in a week when major corporations and some local governments are implementing new requirements. But most have not, despite surging coronavirus rates in the U.S.
According to the Office of Personnel Management, the executive branch employed more than 2.7 million civilians in 2020, with some of the most significant numbers in Republican-led Southern states including Texas and Florida, where substantial vaccine resistance remains.
President Biden is also asking states and localities to offer unvaccinated residents $100 to get their COVID-19 shots.
The cash reward for vaccination was one idea in Biden's latest plan to boost lagging vaccination rates in many parts of the nation. Rolled out Thursday, the core of his new plan is a requirement for federal workers to disclose their vaccination status to their agencies.
Biden is pointing to anecdotal evidence that a $100 reward will get results. The White House says the Kroger grocery store chain tried it and saw vaccination rates jump to 75% from 50% among employees. New Mexico, Ohio and Colorado have also experimented with the idea.
Biden says states and localities can use money from his COVID relief law to pay for the incentive programs.
About 60% of American adults have been fully vaccinated. Biden had set a July 4 goal to get at least one shot in 70% of adults, and it's currently at 69.3%.
(Copyright 2021, The Associated Press. All Rights Reserved.)