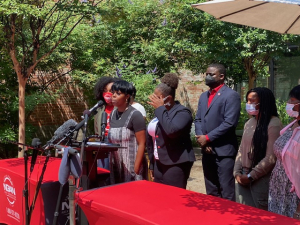 FORNEY (WBAP/KLIF) – North Texas activists are calling for a Kaufman County deputy to be fired after a video of an arrest in Forney went viral.
The video shared on social media shows a Kaufman County Deputy straddled on top of 18-year-old Nekia Triggs who's seen bubbling and spitting up from the mouth.
 (The below video contains profanity)

Triggs' mother Antanique Ray was arrested for interfering when she says she tried to help her daughter.
"My daughter is saying mom I can't breathe, he's on my stomach," said Ray. "She reached for me."
The Deputies said in the video it was reported the girl was suicidal. Her attorney, Kim T. Cole, and representatives of the Next Generation Action Network, argue that pinning someone to the ground is not a way to handle that type of call.
The Kaufman County Sheriff's Office said the Deputy if on paid administrative leave while it conducts an internal investigation.
Listen to Clayton Neville's story below:
Copyright 2021. WBAP/KLIF News. All Rights Reserved.