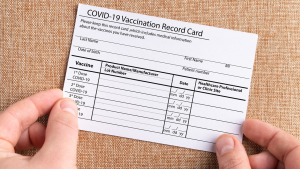 DALLAS (WBAP/KLIF)-Mayor Eric Johnson has kicked off the Mayor's Vaccine Raffle, a program meant to encourage the city's residents to get their COVID-19 vaccines this summer.
The mayor is partnering with The Dallas Foundation to run the raffle program.
Prizes available for the Mayor's Vaccine Raffle entrants include airline tickets from American Airlines and Southwest Airlines, tickets to performing arts shows, Dallas Arboretum passes, Dallas Stars ice passes, State Fair of Texas passes, gift cards for restaurants and coffee shops, and more. The grand prize is a $1,500 Visa gift card, provided by Walmart. Click here to see the full list of prizes.
"It's time to finish off COVID-19 in Dallas and across the country," Mayor Johnson said. "While we have made incredible progress, the virus is still mutating, posing grave risks to our communities and to our families. The vaccines have proven to be safe and effective, and they are widely available and absolutely free. Let's get vaccinated, Dallas, and then let's have some fun this summer."
"The Dallas Foundation is here for Dallas and here for good," said Matthew Randazzo, President and CEO of The Dallas Foundation. "We are delighted to partner with Mayor Johnson and his team to offer this fun and creative way to encourage more Dallas residents to get the COVID-19 vaccine which will move us toward a safer and healthier tomorrow."
To enter the raffle, you can sign up online in English or Spanish at mayorofdallas.org or call the mayor's office at 214-670-3301. Entries will be accepted through Friday, July 23, 2021, at 11:59 p.m. The winners will be notified no later than Friday, July 30, 2021.
Only city of Dallas residents are eligible to enter the Mayor's Vaccine Raffle. To claim a prize, entrants must have received the first dose of a two-dose vaccine series or the single shot of a single-dose vaccine series on or after June 1, 2021, and prior to July 24. Proof of vaccination will be required. The Dallas Foundation will work with medical volunteers to verify vaccination status.
Anyone 12 or older can enter the Mayor's Vaccine Raffle, but someone 18 years or older must claim any prizes won by a minor.
Most of the prizes represent activities that many people had to forego during the pandemic.
"American Airlines is proud to play a role in this effort by Mayor Johnson to boost vaccination rates in Dallas, right in our airline's backyard," said Nate Gatten, Senior Vice President of Global Government Affairs for American Airlines. "We know vaccines are key to beating COVID-19 and getting back to activities like visiting loved ones and traveling for leisure and business. Our team welcomes the opportunity to contribute to the great work happening at the local and federal level to defeat the pandemic."
"I applaud Mayor Johnson for this effort," said Marty Turco, President of the Dallas Stars Foundation. "We certainly want to encourage everyone to get vaccinated as soon as possible. There is nothing like live hockey, and getting vaccinated will help keep everyone safe as they cheer on our city's team next season."
"We want to see our patrons and audiences back safely," said Lily Weiss, Executive Director of the Dallas Arts District. "We want our artists, staff and patrons to get vaccinated so we can welcome everyone back. That's why 12 organizations have donated tickets and benefits to nearly 20 major events to help those who might be undecided about vaccinations."
"It is not lost on us that bringing the State Fair back this year would not have been possible without the COVID-19 vaccine and vaccination efforts throughout the Lone Star State," said Karissa Condoianis, Senior Vice President for Public Relations for the State Fair of Texas. "We are proud to support this initiative to further promote vaccination efforts and we encourage everyone coming to the State Fair of Texas to get your vaccine so that you are protected from the virus."