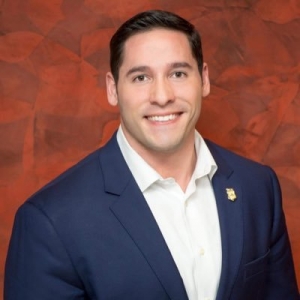 FORT WORTH (WBAP/KLIF)- Manny Ramirez, President of the Fort Worth Police Officers Association says he's going to run for a Tarrant County Commissioner seat representing Precinct 4.
"I recognize the need for a new generation of leadership and I wholeheartedly wanted to be a part of that," said Ramirez.
Ramirez said he was encouraged by newly elected Mattie Parker's win for Fort Worth Mayor, making her the youngest serving mayor of a major city. "I saw there is a strong desire for a new generation of conservative leadership and I was absolutely willing to put my name in the hat for that," he said.
Ramirez said during the past 5 years serving as the president of the FWPOA, he always encouraged police, first responders and veterans to run for office so they can make a positive impact on public safety, and he wants to do just that.
"Public safety should always be a number one priority for any elected official. We need to make sure our citizens are safe and the violent crime rates go down. In Northwest Tarrant County, there's vast land area and our public safety infrastructure is stretched thinner and thinner every year. We have to put a focus on public safety," said Ramirez.
Ramirez said he was born and raised in Northwest Tarrant County, Precinct 4. "I enjoy raising my family there, I went to school there and I started a business there. That's home base for me. I would love nothing more than to serve as Tarrant County Commissioner for Precinct 4," he said.
If elected, Ramirez wants to bring fresh new ideas to the district.
"In Precinct 4, our infrastructure has aged, Northwest part county has fallen behind in valuable economic development and I think someone with a new vision and fresh ideas can come in and help us keep Tarrant County the way we want it to be," he said.