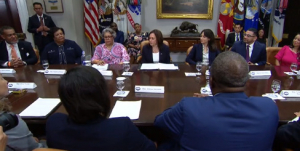 WASHINGTON, D.C. (WBAP/KLIF) – A group of Texas Democrats met with leaders in Washington this week about state and federal voting measures. Among the group were several Texas House Democrats who killed Texas' Republican-led voting bill by walking out of the House chamber.
The Biden administration is pushing legislation that would expand voting access while Texas Republicans want to tighten access to voting. Republicans contend that the motivation behind measures like SB7 in Texas is to better protect voter integrity. Democrats argue that the bill suppresses the vote and discriminates against communities of color.
The Texas Democrats joined Vice President Kamala Harris at the White House on Wednesday for a roundtable discussion on proposed voting measures.
"When we look at what has happened in Texas, we look at what's happening around the country, I think it's important to remember: We talk about the right to vote, and the right to vote is a given," said Vice President Harris. " All citizens have the right to vote. Constitutionally, it is their right."
The voting rights roundtable with the Vice President follows a series of actions by Texas lawmakers to push for the passage of the For the People Act and the John Lewis Voting Rights Act.
"As President Biden defends democracy across the world, Vice President Harris is defending the right to vote right here at home. Her leadership shows the Biden Administration knows the gravity of the issue and the severity of the challenge," said Texas State Representative Trey Martinez Fischer. "Make no mistake, democracy is in jeopardy — in Washington and in the states."
On Tuesday, Representatives Martinez Fischer and Jasmine Crockett spoke with senior aides to Senator Joe Manchin. Texas lawmakers also met with Speaker Nancy Pelosi, Majority Leader Chuck Schumer, and Members and Offices of the United States Senate and House of Representatives.
Copyright 2021. WBAP/KLIF News. All Rights Reserved.