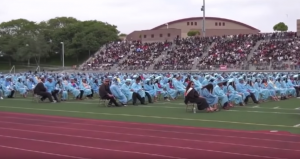 FORT WORTH (WBAP/KLIF)- The Fort Worth Independent School District has adjusted graduation plans due to the extreme heat.
Clint Bond with FWISD said from Wednesday to Sunday they will have about 20 different ceremonies and have spread them out during non peak hours either 9am or 7:30 pm.
"We know heat is a factor and have taken precautions to help graduates and spectators beat the heat. Ceremonies will begin on time and we are working very diligently to conduct them efficiently to minimize exposure to the elements," said Bond. "The first ceremony starts at 9am and should be done no later than 10am and the other ceremonies are at 7:30 pm and we know it's warm but it won't be as warm as if it was during the middle of the day," he said.
Bond said the district planned for the outside ceremonies at the Clark Stadium and Farrington Field to accommodate for social distancing. "We had made these plans when Covid-19 was still rampant and we didn't know exactly what indoor facilities would be available and what protocols and restrictions would be at this time," he said.
Bond said masks will not be required and students are encouraged to dress accordingly for the triple digit heat indexes.
The stadiums will be equipped with misting devices, cooling stations and staff will give out cold water for guests. Medical personnel will also there in case of an emergency.
For those who cannot handle the intense heat, the district said live streaming of each ceremony will be available on the FWISD YouTube channel.