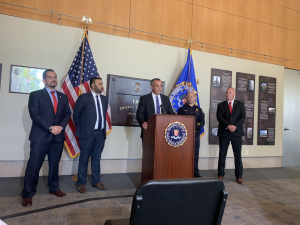 DALLAS (WBAP/KLIF)- The FBI Dallas, Dallas Police Department, ATF and the DEA worked together on a large scale operation targeting drug trafficking and gang violence in the Fair Park area of Dallas.
More than 400 Dallas law enforcement officials were involved in the take down.
FBI Dallas Special Agent in charge Matthew Desarno said this area is notorious for violent crime and DPD detectives and FBI agents work together to identify these areas and to build investigations around curbing violence in that part of the city.
"Timing in this is everything," said Desarno, as this case launches the Dallas Summer Crime Initiative. "To do this upfront right at the beginning of the summer in an extremely crime-ridden area, that's been proven out by the data. In this instance, we saw an opportunity and we collected the evidence to take this action at this time, in the beginning of the summer," he said.
Dallas Police Chief Eddie Garcia noted this has been an area with increased gang violence from 2018 to 2020.
"In 2018 this area experienced 315 aggravated assaults in 2019 that number jumped to 367 aggravated assaults and in 2020 that number jumped  even higher to 485 aggravated assaults. In 2018, 10 murders in 2019, 12 murders and in 2020 23 murders," said Garcia.
ATF Dallas Special Agent in Charge Jeffrey Boshek II said that the area was one of the most dangerous areas in North Texas. "This action will have a long term effect on crime in Dallas," said Boshek.
The goal of having partnerships between local, state and federal agencies is that the Dallas Police Department isn't alone in keeping the city and citizens of Dallas safe.
"The families of Dallas will sleep safer tonight because of the actions taken today," said DEA Dallas Special Agent in Charge Eduardo Chávez.
There were a number of people taken into custody at multiple locations but court documents related to the operation had not yet been unsealed and more information is expected to be released about the arrests soon.