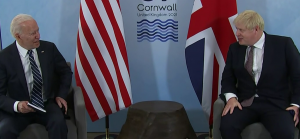 CARBIS BAY, England (AP) – President Joe Biden and British Prime Minister Boris Johnson were all smiles during their first meeting, taking place in England just before an international summit Johnson is hosting.
The leaders had planned to meet on the spectacular island of St. Michael's Mount, but that trip was scrubbed because of bad weather.
Instead, they and their wives met above the beach at the site in Carbis Bay, where this year's Group of Seven summit of industrialized nations opens Friday.
While the U.S. and the U.K. may have a famed "special relationship," Biden and Johnson are sitting down against a backdrop of differences both political and personal.
(Copyright 2021, The Associated Press. All Rights Reserved.)