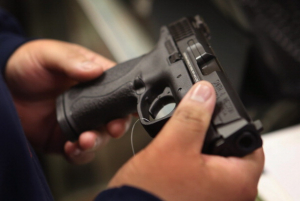 AUSTIN (WBAP/KLIF) – The Texas House and Senate conferees reached an agreement on House Bill 1927, better known as constitutional carry.
The measure would do away with the need to have a license to carry a gun in Texas.
"By working together, the House and Senate will send Governor Abbott the strongest Second Amendment legislation in Texas history, and protect the right of law-abiding Texans to carry a handgun as they exercise their God-given right to self defense and the defense of their families," said the bill's author, Rep. Matt Schaefer Speaker Dade Phelan has been rock-solid every step of the way as House Bill 1927 has progressed, and I am grateful for his leadership and the bipartisan coalition who supported House Bill 1927."
Lt. Gov. Dan Patrick congratulated Rep. Matt Schaefer and Sen. Charles Schwertner for reaching a full agreement on permitless carry.
"This legislation restores our Second Amendment rights and upholds every Texan's right to self-defense," Patrick told WBAP on Friday. "HB 1927 is a historic bill and a national model. It includes the thinking of national gun rights advocates and many in Texas law enforcement and affirms our commitment to protect the rights of gun owners and the safety of those in law enforcement."
According to Lt. Gov. Patrick, the bill will become eligible for a final vote early next week.
"Those who said HB 1927 would never pass and who perpetuated stories of a 'poison pill' and other conspiracies willfully misled many Second Amendment supporters in Texas," said Patrick. "They also underestimated how hard members of the House and Senate were working to pass this bill."
Governor Abbott told WBAP earlier this month that he will sign the bill into law when it makes it to his desk.
Copyright 2021. WBAP/KLIF News. All Rights Reserved.