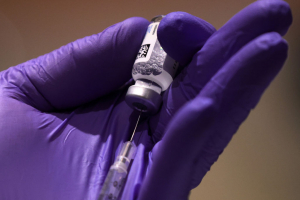 SANSOM PARK  (WBAP/KLIF News) – North Texans who live near Sansom Park will have access to COVID-19 vaccines this week.
MedStar has partnered with the Sansom Park Fire Department to host a pop up clinic on Wednesday, May 12, from 4 p.m. to 8 p.m.
It will be held at the Sansom Park Fire Department at 5500 Buchanan Street.
According to MedStar, up to 250 vaccines will be available for anyone 18 and older.
You don't need to register but it is preferred. Click here to register.
The pop up clinic comes at a time when vaccines are outweighing demand, causing health officials to worry that there may not be enough Americans vaccinated for the country to reach herd immunity.
Tomorrow's Sansom Park event is not the only pop-up clinic in Tarrant County this week.
According to fortworthtexas.gov, the Tarrant County Homeless Coalition has joined forces with several organizations to host a vaccination event targeting the homeless.
The event is at the Vineyards on Lancaster, next to Union Gospel Mission, on Saturday, May 15th, from 8 a.m. to 5 p.m.
JPS and the Fort Worth Fire Department will vaccinate clients with either the single-dose Johnson & Johnson or two-shot Moderna vaccine.
The clinic will also give out bus passes and hygiene kits for those who get vaccinated.
Copyright 2021. WBAP/KLIF News. All Rights Reserved.