(WBAP/KLIF) — An extremely powerful thunderstorm spawned two tornados in North Texas, Monday night, one of them blowing three 18-wheelers off the road.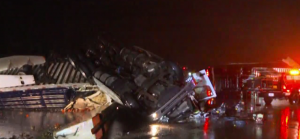 The Department of Public Safety says the storm closed down parts of i-35 south near Waxahachie as crews worked to rescue the drivers.  A storm-chaser was one of the first on the scene to help pull two truck drivers from the wreckage.
Another tornado near Granbury ripped off the steeple and roof from a local church. emergency crews are still assessing the damage caused by the storms.  According to WFAA TV, crews received reports of downed trees and power lines in Collin county, as well as pockets of damage in Frisco, Plano, and Celina..
Listen to WBAP/KLIF report:
(Copyright 2021 WBAP/KLIF Newsroom News.  All rights reserved.)