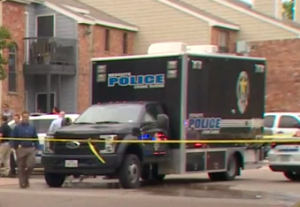 MESQUITE (WBAP/KLIF) – Two Police Officers are on administrative leave and one person is dead following a Tuesday shooting at a Mesquite apartment complex.
According to the Mesquite Police Department, dispatch received a 911 hang-up call on Tuesday morning, where a female could be heard screaming and crying in the background. MPD dispatch was able to locate the address based on a prior call from the same phone number. Officers were dispatched to the 5800 block of Northwest Dr., the Audubon Park Apartments.
"Officers made their way to the apartment where they were contacted by the victim, who advised that the suspect was armed with a knife," said Sgt Mark Bradford. "Officers made contact with the suspect on the side of the apartment building where the suspect charged at officers, armed with a knife and a club."
According to Sgt. Bradford,  the two officers discharged their duty weapons at the suspect, striking him. He said Officers rendered first aid to the suspect until medical personnel arrived on the scene.  The suspect was transported to a local hospital, where he later died.
The suspect has been identified as 27-year-old Ashton Pinke of Dallas. The officers are identified as a 25-year veteran Officer and a 21-year veteran Officer . As per departmental policy, the involved officers have been placed on administrative leave with pay.
Per protocol, Investigators with the Dallas County District Attorney's Office responded to the location.
Mesquite Police said late Tuesday that body worn camera footage of the shooting is being reviewed and will be released to the public later this week.
Listen to Clayton Neville's story below:
Copyright 2021. WBAP/KLIF News. All Rights Reserved.