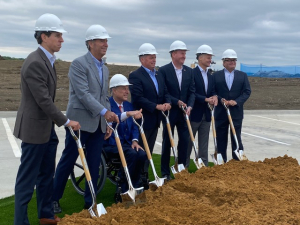 FRISCO (WBAP/KLIF) – Ground was broken on Tuesday in Frisco at the site of the Omni PGA Frisco Resort.
The groundbreaking ceremony had been put on hold during the coronavirus pandemic but was held Tuesday morning in front of local and state dignitaries, including Governor Greg Abbott. The Governor spoke of the economic recovery happening in Texas as vaccines become more widely available, and thanked the state's public and private partners for leading that recovery.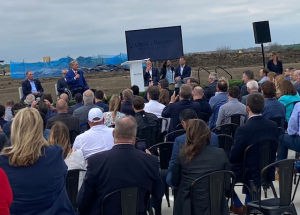 "Despite the challenges of the past year, Texas has remained the economic engine of America — and projects like the Omni PGA Frisco Resort are continuing to fuel Texas' economic might," said Governor Abbott. "Thank you to Omni Hotels & Resorts and PGA of America for partnering on this tremendous economic investment. Together, we will continue to elevate the city of Frisco and the state of Texas to extraordinary new heights."
Governor Abbott was joined for the groundbreaking by Frisco Mayor Jeff Cheney, PGA of America President Jim Richerson, and Omni Hotels & Resorts President Peter Strebel.
Omni PGA Frisco Resort is planned to open in Spring 2023 with two championship level golf courses as well as a short course, 501 guest rooms and suites, Golf Villas, multiple dining outlets, a Mokara Spa, meeting and event spaces, and more. The resort is a partnership between Omni Hotels & Resorts and the PGA of America.
Announced in winter 2018, The PGA of America unveiled it will be moving its headquarters from Palm Beach County, Florida to Frisco where it will anchor a 600-acre, mixed-use development with an initial investment worth more than half a billion dollars.
Listen to Clayton Neville's story below:
Copyright 2021. WBAP/KLIF News. All Rights Reserved.