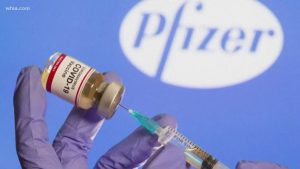 WASHINGTON (AP) – The U.S. Food and Drug Administration is expected to authorize Pfizer's COVID-19 vaccine for youngsters ages 12 to 15 by next week.
That's according to a federal official and a person familiar with the process.
The decision will set up shots for many students to get their vaccinations before the start of the next school year.
The announcement is set to come a month after the company said its shot, already authorized for those age 16 and older, also provides protection for younger kids.
Official word of the Pfizer approval for younger people is expected to come early next week – and perhaps even sooner.