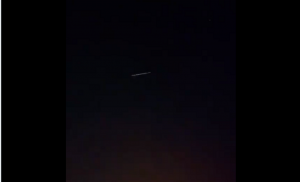 NORTH TEXAS  (WBAP/KLIF News) – A mysterious string of white lights lit up the sky last night and created a stir among North Texans wondering if the sighting was other worldly.
The lights were the product of SpaceX's  launch of its Starlink internet satellites from Cape Caneveral, Florida Wednesday night.
The tech company is building an interconnected internet network made up of thousands of satellites, which are designed to deliver high-speed internet to consumers world wide.
Texans took to social media to ask for answers amid the sighting.
#Elongate #ufotwitter #ufo #wfaa #wfaaweather 👋#fox4news #FoxNewsPrimetime #cnn. UFO ? In N Texas. Anyone can use or share my video pic.twitter.com/Rposh9RRqz

— Steve Roberts (@2021BetterYear) April 8, 2021
UFO sighting tonight in Hutto? #atx #ufo #hutto #Aliens #texas pic.twitter.com/ArxU3ZpNdu

— Matt (@Matt_Martinez95) April 8, 2021
Here's the SpaceX launch:
Deployment of 60 Starlink satellites confirmed, completing SpaceX's 10th mission this year pic.twitter.com/c15BveB3QE

— SpaceX (@SpaceX) April 7, 2021

Copyright 2021. WBAP/KLIF News. All Rights Reserved.