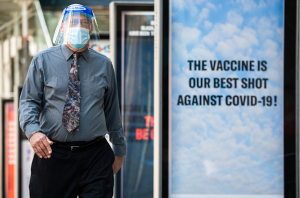 UPDATED: 8:03AM  4/8/21
Tarrant County, TX (WBAP/KLIF) – Tarrant County residents who can't get to vaccine hubs are the target of a new partnership between the u-n-t health science center and medstar for at-home shots, within the next week or two, according to MedStar's Matt Zavadsky.
Meantime, as more vaccine sites ramp up in Tarrant County, the City of Fort Worth is hiring temporary and part-time vaccine site assistants and medical technicians.
The positions pay up to $20 an hour and could last through early 2022.
Click here for details on how to apply.
—
Original post:
Dallas (WBAP/KLIF) – The City of Dallas has announced an at-home vaccination program starting April 13 in a partnership with the Visiting Nurse Association of Texas.
The goal is to reach residents lacking transportation or access to vaccine hubs and pharmacies.
Dallas fire-rescue employees and VNA staff will vaccinate homebound residents with the Johnson & Johnson vaccine.
In a press released Dallas Mayor Eric Johnson said, "I am excited for what this new partnership will mean for Dallas, For our vulnerable homebound residents, this effort can finally bring an end to the fear of the last year. And for our entire city, these vaccinations represent another important step toward achieving community immunity against a deadly and devastating virus."
Officials say planning is currently underway for how to administer the vaccines "effectively, efficiently, and equitably." "Six teams of EMS staff will be able to vaccinate 12 residents per day, depending on vaccine availability, according to the release.
This is the first at-home vaccination program for the City of Dallas, but others are underway in North Texas.
(Copyright 2021 WBAP/KLIF. All rights reserved.)