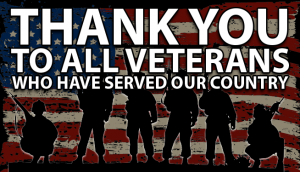 DALLAS – WBAP/KLIF – Thousands are expected to attend both opening ceremonies and the actual parade for Veterans Day in Dallas, which will wind through city streets starting at 11 am on Monday.
This year's ceremonies and parade are hosted by the Greater Dallas Veterans Foundation, commemorating the 75th anniversary of the D Day invasion.    Opening ceremonies feature key-note speaker Consul General Alexis Andres of France, along with dignitaries from Canada and Britain.
Four Grand Marshalls share responsibilities and attention this year; all WWII veterans including james "Maggie" Megellas, the famed paratrooper who fought in Italy, France and Germany – and who is now 103 years old.  Other Grand Marshals inckude William Caldwell, who joined the Navy at 17 and took part in invasions in Italy and France.  Bob Jagers is a Navy vet who joined after Pearl Harbor, served on a landing ship and took part in the D Day invasion. George McCalpin was an Army engineer who fought across France and Germany, and at the Battle of Bastogne.
At 9:50 am Monday morning, military displays will be available for viewing in front of Dallas City Hall.   At 10:50; more than 100 young men and women representing all services of the military take their Oath of Enlistment.  At 11, 11th hour ceremonies feature a keynote address by Consul General Alex Andres, followed by a symbolic wreath laying, a missing man flyover by the Air Force, and the Massing of the Colors performed by area high school JROTC cadets.
The parade route begins at Union Station, proceeding north on Houston Street, east on Main Street, south on Erva, west on Young, south on Akard, and winding up at Dallas City Hall.
(Copyright, All Rights Reserved, WBAP/KLIF 2019)