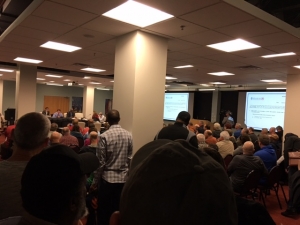 DALLAS (WBAP/KLIF News) — A new plan to fix Dallas' Police and Fire pension problem has been approved by the city's pension board.
The plan proposed by State Representative Dan Flynn was chosen over one brought forward by the City of Dallas. Flynn's plan asks the city to put in $22 million each year. The City's plan would have taken interest from retirees' Deferred Retirement Option Plan accounts, or DROP, while also facing more than $3.5 million in benefit cuts and raised contributions.
"It allows us to recoup some of our money, even though it's in a long-term plan," said Joel Lavender, a retired Dallas fireman. "It may not be the best plan, but it's a better plan than what the mayor wants to put forth. The Flynn plan, even though it's only six months old, it shows respect for the police and firefighters who are retired."
Flynn's plan would take between 40 and 53 years to fully pay back the pension fund. The city's plan would pay it back in 30 years, but not without larger sacrifices to retirees — a reason many of them spoke adamantly against Dallas' plan at Monday's emergency meeting.
There was a rush to decide on one of the two plans Monday because of time dwindling in the Texas legislative session. Though months out from closing this year's session, board members felt obligated to get a proposal in soon, otherwise they were led to believe Flynn would go through with his plan as is.
While Flynn's was approved, board chairman Sam Friar says there is still wiggle room to modify it before it is sent to the Texas legislators.
"The Flynn plan is a slam dunk," Lavender said. "That's what's best for the firefighters and basically police officers in the City of Dallas."