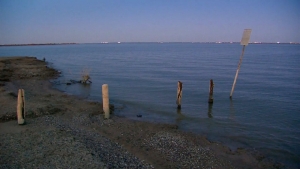 Lewisville  (WBAP/KLIF News) – The body of a man who drowned in Lake Lewisville has been found. He went swimming in the lake Sunday night without a life jacket and was pulled under by the current.
Game Warden Captain Cliff Swofford said searchers found the body around 7 p.m. Tuesday near Oakland Park. He said the man was in his boat with a childhood friend and decided to jump into the water Sunday night. The boat began to drift because of the wind and he began to have trouble swimming. His friend, who was wearing a life jacket, grabbed another life jacket and jumped in the water to save him.
She was also swept away by the current. A passing boater picked the the woman up and brought her back to her boat. Lewisville firefighters, Denton County Sheriff's deputies and Texas game wardens participated in the search. Authorities have not released the identity of the victim.

Copyright 2016. WBAP/KLIF News. All Rights Reserved.