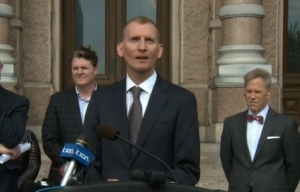 Austin (WBAP/KLIF News) – Event planners from across the country gathered outside the Texas Capitol Wednesday to call on state lawmakers to reject Senate Bill 6. The measure would require people in parks, schools and government buildings to use the bathroom of their physical gender.
"We've seen what happens across the United States, and I urge Texas to reconsider this," says Deborah Sexton, the chief executive officer of the Professional Convention Management Association.
Sexton cites a survey by a trade publication that says 47 percent of meeting planners would stop booking events in states with laws similar to North Carolina. The same survey says 23 percent have already stopped booking events in North Carolina and Mississippi.
Event planners have set up a website, texaswelcomesall.com. They say 1,200 employers in Texas have joined 21 chambers of commerce in opposing the bill.
"We've seen the detrimental impact these types of bills have had on other states throughout our country," says the association's Bill Reed.  "And we expect the same effect in Texas."
A bill has been introduced in the Texas Senate, but House Speaker Joe Straus has said he does not consider the measure a priority.
Lieutenant Governor Dan Patrick has said the majority of Texans from both parties support the measure.
(Copyright 2017 WBAP/KLIF News. All rights reserved)